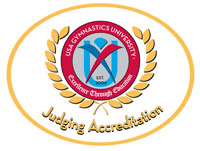 Education - CPE Requirements
Annual Continuting Professional Education (CPE's) credits are required to test up to the next level and to be assigned to USA Gymnastics sanctioned events. For more information, visit:
https://usagym.org/pages/women/pages/index.html
Click on "Judges"
i
Reimbursement
Vouchers will be distributed annually to members who fulfill requirements based on rating. The voucher allows for reimbursement of a specified amount for approved professional expenses. To be reimbursed the voucher must be submitted prior to Judges' Cup to Gina Fuller.